The hurricane center will try posting color-coded maps online if a storm threatens to make landfall, to show how far inland the ocean might surge and how high that water could rise in individual communities.  These maps are a new program to be started this year and the maps are part of an ongoing effort at the hurricane center to emphasize a storm's hazards, not just its path or its strength.
"It will enable us to do what words fail miserably at, and that is to clearly convey in a forecast a sense – even with uncertainties of track, intensity and size – of how far inland could the water go," Knabb said. "We have not been communicating that in the public products up to this point."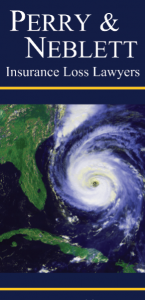 Storm surge
– the abnormal rise of sea water during a hurricane – is one of the deadliest
and most damaging storm hazards, but it's also hard to predict and hard to
explain.
Importantly, storm surge is generally considered flood damage.  Separate flood insurance must be purchased to cover damages by storm surges.  These policies contain a number of very specific deadlines and post loss requirements that are not found in other types of policies.
The six-month Atlantic hurricane season starts June 1.