CASES
Gerhardus Kleynhans
and Janet Hanmer v. State Farm Insurance Company
David Neblett and Jerrod Paul recently tried the case of Gerhardus Kleynhans and Janet Hanmer v. State Farm Insurance Company in a week long jury trial; representing the Plaintiffs, Mr. Kleynhans and Mrs. Hanmer. After nearly two weeks of preparation, including long nights, weekends and a week of trial, the jury returned a verdict on Friday evening at approximately 7pm, after one hour and twenty minutes of deliberation. The jury entered a verdict in favor of the Plaintiffs. This was a great victory for the Plaintiffs and signifies another victory for insureds who have had their lives affected by unwarranted denials of insurance claims.  Perry & Neblett, P.A.  continues to provide representation to insureds who are similarly affected and the case signifies another great victory for the firm and its attorneys.
Update– David Avellar Neblett is working on behalf of vessel owners regarding the Sunny Marina catastrophe and outrageous "extraction" or "salvage" charges.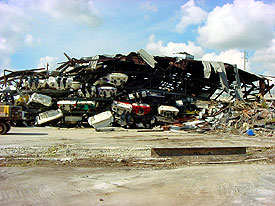 Mad At The Marina
Air Date: 11/22/2005
The clean up after Hurricane Wilma is costing homeowners a lot of time and money. And that holds true for boat owners too. But there's controversy about how one marina is handling the collapse of its facility. Investigative Reporter Carmel Cafiero is "on the case".
There's nothing easy about removing hundreds of boats smashed under tons of steel. But Sully Sutherlin – of U.S. Auctions – is orchestrating just that at the Sunny Marina in Sunny Isles. Sutherlin's work does come at a steep price. And now there are complaints coming from boat owners and insurance companies about the fees he is charging.
Jay Freedman: "My boat's right dead in the middle."
Jay Freedman had to climb a nearby bridge to get a look at his boat.
Jay Freedman: "It is unreasonable."
Based on the fee schedule – Freedman's 27 foot regal – would cost seven thousand six hundred ninety five dollars to be moved out of the building.
Jay Freedman: "We are in limbo. We're stuck here and being held hostage."
Owners have been told – based on the length of a boat – the cost is 285 dollars to 375 dollars per foot.
Michelle Gallimore: "Progressive's not OK with that."
Michelle Gallimore with Progressive says 125 dollars a foot would be a more reasonable fee. Progressive insures 22 boats at the marina and expects to be charged 100 thousand dollars – just to move the boats out of the racks.
Michelle Gallimore: "We feel that US Auctions is gouging right now to recover these vessels."
But Sutherlin says his company is charging a fair fee for risky removals.
Sully Sutherlin: "We're very careful about the way that we price what we do and we spent a lot of time working on that very thing."
Owners we have talked to also think they should have played a role in deciding who would remove their boats and for how much money.
David Neblett: "I think that the fees are truly exorbitant."
Attorney David Neblett represents eleven other boat owners. He says he is negotiating with representatives of the Marina and would like to avoid a lawsuit. Neblett claims boat owners made no contract with the extraction company so it has no right to bill them.
David Neblett: "For my clients, we put them on notice that we do not want them to do the work and that they do not have any contract with my clients so they can not charge my clients for the work."
But that hasn't stopped Sutherlin's crews. He even says most insurance companies are not upset by his fees.
Sully Sutherlin: "But their job is to try to get this done as cheaply as possible. Our job is to make a profit. And somewhere in the middle those two meet."
Investigative Reporter Carmel Cafiero: "And that's exactly what eventually happened here. After 7 News started asking questions and insurance companies refused to pay – the price was reduced to 210 dollars per foot for all boats – no matter their size. There's still some grumbling – but for now – the clean up here can continue.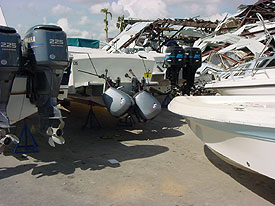 Riveria Beach v. Lozman Is it a boat or a floating home?